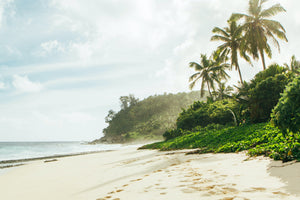 The Story
Holden Bierman, the founder of Coastal Cool wanted to create an island capturing lifestyle brand with a collection of beach-inspired clothing and a line of versatile swimwear. In the early summer of 2020, at only 12 years old, Holden created Coastal Cool as the go-to beach vacation lifestyle brand, offering a seamless collection that combines quality craftsmanship with a tropical inspiration. Holden, growing up visiting the North Carolina coast, inspired him to create a one-stop shop for all vacation and beach essentials. Coastal Cool offers just this, from swimwear to beachwear with a touch of the island life. Each piece, adorned with handmade designs, captures the vibrant spirit of the leisure, worry-free life.
Our beachwear and tropical island-inspired swimwear is not just about style, it's about sustainability. Crafted from recycled plastic bottles, each piece is a testament to our commitment to the environment. By choosing our line of vacation essentials, you're not just embracing the beach lifestyle, you're also helping to keep our oceans clean. Dive into our collection and make a splash in more ways than one.
Our tropical-inspired clothing is designed for those who dream of a worry-free, leisure lifestyle. Each piece, from breezy tops to relaxed shorts, encapsulates the laid-back spirit of island living. With our brand, you can embrace the easy-going rhythm of the tropics, whether you're on vacation or simply dreaming of one. It's all about comfort, style, and that endless summer feeling.
Our collection of breezy, ready-to-wear garments ensures you're always in the summer spirit, no matter the season or location. Crafted from light, breathable fabrics, our pieces provide comfort and style for any occasion. 
Join us in embracing the endless summer, worry-free leisure vacation, and island lifestyle, where every day is a sun-soaked adventure with a sense of tropic. Whether you're beach-bound, city-strolling, or just enjoying a relaxed day at home, our clothing is designed to bring the summer lifestyle to you, all year round. Coastal Cool is more than a brand, it's a way of life.