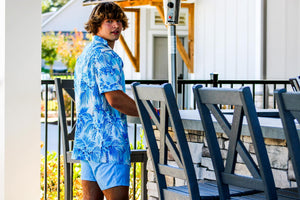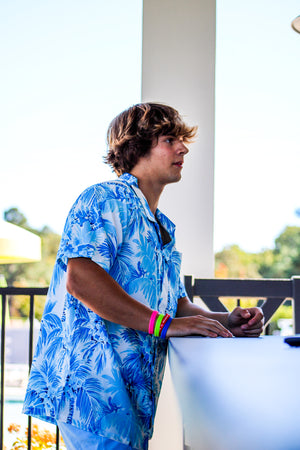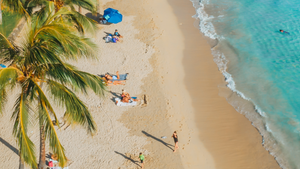 Coastal Cool is your go-to beach vacation brand. Recycled fabrics, breezy materials, and tropical styles made for a worry-free experience. Vibrant, modern, and classic collections made for performance, comfort, and style. Coastal Cool has you covered. Best-selling swimwear & ready-to-wear beachwear collections.
ALL IN THE DETAILS
Our line of swimwear is made from post consumer plastic bottles. Recovered from ocean, and marine life environments. These are the same bottles that take 450 years to decompose. We decided to make a difference. We aim to offer eco-friendly, high quality, vibrant products that are perfect for any occasion. Our classic designs and patterns are composed of colorful, tropical, and vacation inspired handmade schemes. The variety of seamless prints have you covered for good times in the making.
breezy fabrics
made for leisure
Whether you find yourself on a pristine golf course or basking in the sun-soaked island vibes, our collection of beachwear ensures that you're perfectly covered in breezy fabrics designed for leisure and relaxation.
featured in
Yahoo! NEWS, Wilmington StarNews, and MSN
Coastal Cool creates laid-back leisure worry-free swimwear and beachwear inspired by coastal and island vibes. With a sustainable focus, creating breathable lightweight garments made from recycled plastic bottles.
★★★★★

I recently purchased a pair of Coastal Cool swim trunks and I couldn't be happier with my purchase. These trunks are not only stylish but also incredibly comfortable. The material feels soft against the skin and dries quickly, which is perfect for a day at the beach or by the pool.

Chris P.

Los Angeles, CA
★★★★★

The fit is fantastic, and it's clear that the design has been well thought out. The attention to detail in the stitching and the choice of colors and patterns is impressive. It not only feels great on but looks amazing, too.

Cydney P.

Malibu, CA
★★★★★

I highly recommend Coastal Cool swim trunks for anyone in need of comfortable, stylish beachwear. They strike a perfect balance between fashion and function, making them a great addition to any summer wardrobe.

Thomas H.

Siesta Key, FL
★★★★★

The first thing that struck me was the quality of the material. It's incredibly soft and comfortable, which is a must for a bikini. Knowing that it's made from recycled plastic bottles makes it even better – it's great to look good and feel good about what you're wearing.

Caroline H.

Holly Springs, NC
★★★★★

One thing I love about these trunks is the attention to detail in the design. The print is vibrant and the colors are true to what you see online. The fit is also just right - not too tight, but not too loose either. They have a drawstring waistband, allowing for some adjustment if needed.

Anthony M.

Miami, FL
★★★★★

One of the standout features of this bikini is the attention to detail. The stitching is well-done and there are no loose threads. The adjustable straps ensure a customized fit, and the clasp at the back feels secure.

I also appreciate the practicality of this bikini. The top provides excellent support without sacrificing style, making it suitable for both lounging by the pool and active beach activities. The bottoms offer good coverage without looking frumpy.

Lisa B.

Tampa, FL
★★★★★

The material is incredibly comfortable, and it's clear that Coastal Cool values quality. It's lightweight and breathable, making it ideal for warm weather. The fit is relaxed yet well-tailored, ensuring that you look and feel your best.

I recently added the Coastal Cool Hawaiian leisure shirt to my wardrobe, and it has become an instant favorite. This shirt is not just clothing; it's an experience that brings the spirit of Hawaii into your everyday life.

Nick C.

Wilmington, NC
★★★★★

Let's talk about the design. The print is a stunning and vibrant depiction of island landscapes, and it instantly transports you to a tropical paradise. It's not overdone; it strikes the perfect balance between laid-back leisure and sophisticated style. Whether you're wearing it on a beach vacation or just to brighten up a regular day, it's an eye-catching piece.

Anna V.

Wrightsville Beach, NC
RECYCLED FABRICS
4-WAY STRETCH
UPF 50+
fast drying
BREATHABLE
PARADISE